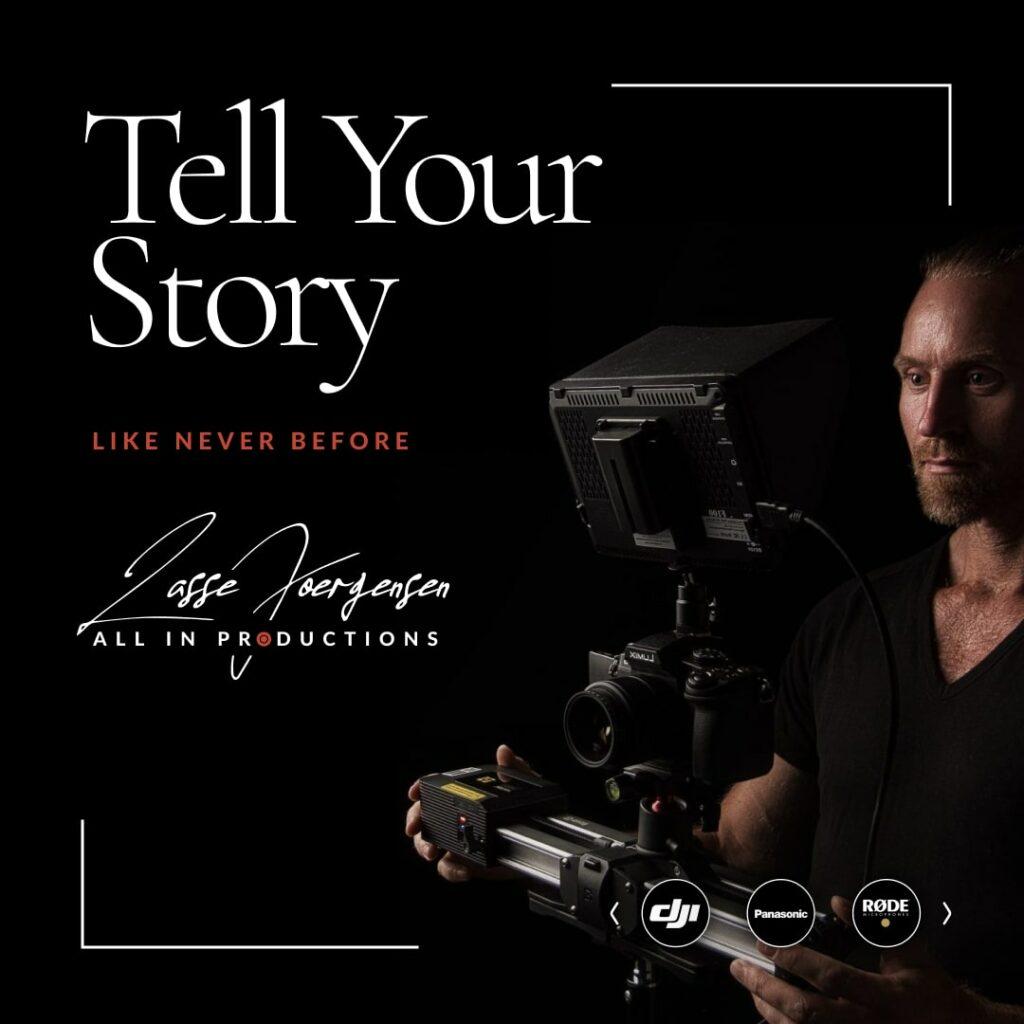 All In Productions, a distinguished video production company, excels in crafting striking, ROI-focused videos for businesses aiming to amplify their online presence and cultivate brand trust.
Specializing in authentic storytelling merged with potent videography strategies, they didn't feel that their previous branding and website accurately mirrored their upscale and personalized services.
This project involved injecting new life into their brand and website design to better underscore these unique attributes.
Embracing the potency of genuineness and personal connection, All In Productions extends a variety of tailored services. Their focus is on capturing their clients' visions and transmuting them into gripping video content.
However, their initial branding and website design didn't reflect this ethos. They lacked a visual identity encapsulating their high-grade work and personalized service. This discrepancy hindered their capacity to connect effectively with prospective clients – a common issue in video production website design.
The solution began with acquiring a deep understanding of their business, services, and unique selling propositions. Extensive client conversations provided insights into their story, values, and objectives – the core of their business. Armed with this understanding, a strategy was carved out to create a brand and a website that accurately represented All In Productions and resonated with their target audience.
The brand development for this videographer needed to meet the following criteria:
Be clean, professional and minimalist
Showcase the brands unique and personal approach to doing business
Highlight the nature of the business visually – Shooting high quality video

The rebranding and videographer website redesign had a profound effect on All In Productions. The new branding now precisely mirrors their high-end, personalized service, while the website serves as an impactful tool for displaying their work and engaging their audience. Post-launch, the client reported enhanced engagement and customer trust, demonstrating the power of expert video production website design.
Clients' testimonials underscore the rebranding and website redesign's impact. Customers lauded the professionalism, creativity, and quality of the final products.
This project was an enlightening experience, underscoring the power of effective videographer website design and branding. The challenges faced offered priceless insights, reinforcing the significance of deeply understanding the client's vision and aligning the design with it. Positive feedback from the client and their customers has confirmed the project's success.
If you're seeking a design partner to mirror your business's essence through compelling branding and videographer website design, I'm here to collaborate. Reach out to discuss how we can elevate your brand together in the video production website design landscape.